Hello everyone! today I'm super excited to reveal the cover for my upcoming book, the omnibus of the series Kingdom of Curses and Shadows. There's also a giveaway, so make sure you scroll to the bottom to check it out!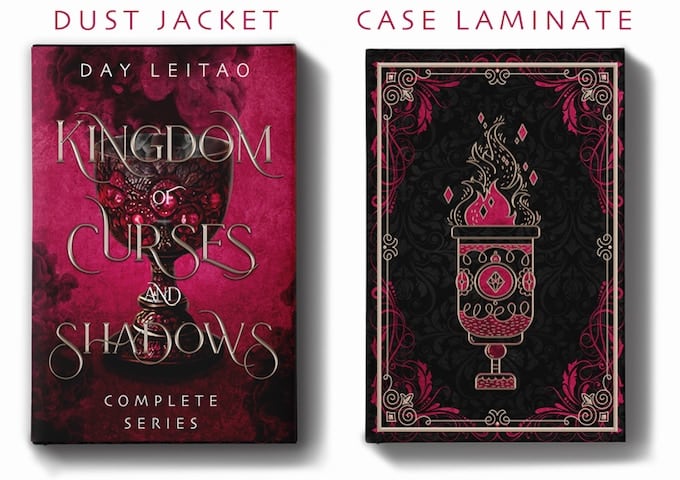 Isn't it pretty? It includes:
The Cup and the Prince, The Curse and the Prince, The Dawn and the Prince, and the short story The Shadows and the Children, for the first time in print! It also has an exclusive, brand new epilogue!
This is a fun, fast-paced, quirky, enemies-to-lovers YA series with two love stories, tons of mysteries, and a lot of action.
Synopsis:
Yes, Zora cheated her way into the Royal Games, but it was for a very good reason.
Spite.
Her ex-boyfriend thought she couldn't attain glory on her own. Just because she was a girl. And he was the real cheater.
So she took his place.
Now she's competing for the legendary Blood Cup, representing the Dark Valley, a cursed land where monsters spawn in the dark. It's her chance to prove her worth and bring glory for her people. If she wins, of course.
But winning is far from easy. The younger prince thinks she's a fragile damsel who doesn't belong in the competition. Determined to eliminate her at all costs, he's stacking the challenges against her. Ha. All he's doing is making her want that cup more than ever.
The older prince is helping her, but the cost is getting Zora entangled in dangerous flirting games. Flirting, the last thing she wanted.
And then there's someone trying to kill her.
Swag, special editions, new illustrations, and more!
The reason I'm excited is that this book is going to be launched on Kickstarter, and it will come with a brand new interior, with exclusive new character art and watercolor illustrations.
There's also a brand new epilogue. Did you miss Zora, Griffin, Larzen, or Riadne? I hadn't noticed it, but I did, and I'm super happy to see how they are doing almost two years after the events of The Dawn and the Prince!
You'll be able to get a signed edition of the omnibus, an exclusive full-color hardcover edition, an exclusive illustrated ebook, and some amazing swag! You can choose your rewards in the campaign between January 21st and February 11th, and the books will be shipped in early March. Follow the campaign now to make sure you don't miss it!
Check out the swag pack that's going to be available:
It includes:
3 art prints: Zora and Griffin by Colouranomaly, Zora by Natalia Sorokina, and Larzen and Riadne, by Mikki Art Books.
one magnetic bookmark made by Junes_Mtl
one bookmark with a ribbon matching the case laminate.
a handwritten thank you note!
There's also a basic swag pack with a cute bookmark, an art print of your choice (among the three above or more), and a handwritten thank-you note.
To celebrate this cover reveal, I'm giving two premium swag packs and three basic swag packs to readers who follow the project on Kickstarter. Just enter the giveaway at the bottom of this post.
There's also a giveaway on Instagram. Check the amazing photos at the #kingdomcursescover tag.
How does Kickstarter work?
Some of you might be wondering what the blip Kickstarter is, and why I'm not simply putting my book on Amazon. Well, it is coming to Amazon in May, but I wanted to do something special to celebrate this series.
Kickstarter helps fund creative projects. In the case of books, the idea is to raise funds for a new book or special edition, and the money goes towards printing and shipping, cover, sometimes editing, things like that. For my project, everything is ready, but the kickstarter is still helpful because it means I don't have to pay for the book or swag printing in advance and I'll be able to order only as many books and prints as readers request and only when I have the funds to do so, and that's what makes a project like this feasible for me.
During the Kickstarter campaign, you can pledge a certain amount in exchange for "rewards", which would be books, swag, a special edition, things like that. There's usually a minimum funding amount, which is what the creator needs to go ahead with the project. For example, imagine they need 3k for a special print run, so they need to make sure they have that amount, or else they won't be able to produce what they promised. That's why all Kickstarter projects have a funding goal. In my case, it's going to be mostly personalized, signed books and/or swag, and I can order as few books as needed, so my funding goal is low because I don't need much to get this project up and running. 
At the end of the campaign,  the pledge you agreed will be deducted from your credit card, then in a couple weeks, the creator will be paid and be able to order print copies and swag, or maybe order special illustrations, commission a cover…  It really depends on the project. You will receive your rewards some time after these two weeks. When exactly depends on the project, but creators state it clearly when listing the rewards.
My Kickstarter for the collector editions of the Kingdom of Curses and Shadows Omnibus is going to run from January 21st to February 11th, when you'll be able to choose to get signed copies and swag. If the project funds, and I'm confident it will, on February 11th you'll pay for the rewards you chose.
The books and swag will be ordered in late February, and all backers should get their books and swag in March or earlier, in the case of digital rewards. 
I'm so excited to be able to offer signed copies! There will be some other cool stuff. For example, backers can have their names added to the acknowledgements of the book. The ebook edition will be special and include illustrations, unlike the Amazon edition, so that's something really cool too, and you can have your name there too!
And then there are art prints, bookmarks, and magnetic bookmarks! For me it's super exciting, and I hope it's exciting for you too.
Giveaway
Follow the kickstarter project and enter to win a swag pack. There will be five winners, so your chances are pretty great!